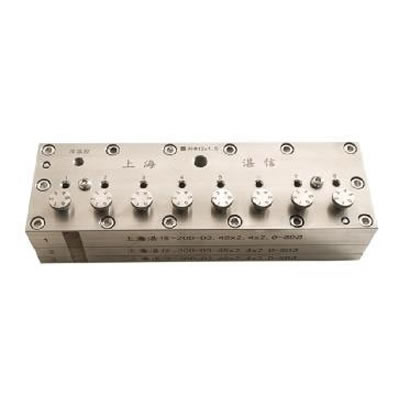 Hollow fiber membrane spinneret not only has the functions of independent installment and replacement, but also features independent control of the dope solution despite the pressure and fluctuation. Take the 8-nozzle products as an example, if one spinneret is closed by the control valve, the flow rate of other spinnerets will be adjusted at the same time.
Features
1. The module design of flow rate control of generation 6 hollow fiber membrane spinneret is simple in structure and easy to operate, each spinneret can be individually controlled.
2. The consistency of the material and liquid flow is excellent to reduce the difficulty of production and assembly.
3. Each spinneret can be independently removed, installed and maintained without opening the plate, the process is as easy as screwing.
4. When single spinneret is blocked, adjustment can be carried out without stopping the machine to save the operating cost and increasing efficiency.