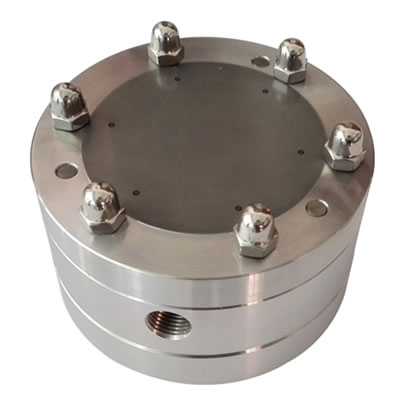 Introduction
We offer polymer fiber spinning, core fiber reinforced spinning spinnerets for customers who need to produce a concrete hollow fiber membrane. The spinneret material is a high quality stainless steel, with a concentricity of 0.003mm. The concrete follow fiber is a hollow fiber membrane that is supported by a monofilament fiber that is wrapped and fused to the bulk material, which features an excellent compatibility. The structure is similar to implants of a monofilament fiber as a steel bar into concrete bulk material. The hollow fiber membrane with a single filament is also known as a concrete hollow fiber composite membrane for this reason.
Suitable Materials
PVDF (Polyvinylidene Fluoride), CA (Cellulose Acetate), PVC (Polyvinyl Chloride), PES (Polyethersulfone), PSF/PSU (Polysulfone), PA (Nylon, Polyamide), PAN (Polyacrylonitrile)
Trustech is a leading polymer fiber spinning spinneret manufacturer, by combined with advanced technology of fiber spinning process and equipment from Germany we can fabricate high quality spinneret, we can offer spinnerets used wet spinning, dry spinning, melt spinning for different fiber spinning process users, we have had clients who used our spinnerets to produce hollow fiber membrane for different filtration applications.
Index
hollow fiber membrane, wet spinning, melt spinning, drying spinning, spinning process